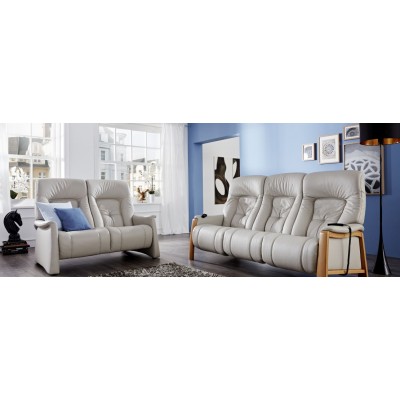 How you arrange the furniture in your living room is dependant on the furniture you have, the size and shape of the room, where the fireplace and windows are, the amount of people in the household and so much more.
So if you're struggling to decide how to have it all, don't worry, here at Websters Distinctive Furniture, we have come up with some wonderful ways to arrange the furniture in your living room to help you out.
Opposites attract
The classic living room layout – place two identical sofas opposite each other, with space in between for a coffee table. It's relaxing, sociable and allows space for extra seating for furniture such as a footstool at either side of the sofa for when extra guests come.
Sofa and two chairs
A slimmer or smaller room can feel swamped by two sofas, so by implementing a sofa and chairs you allow a sense of space and light.
Place two slimline chairs across from your sofa placed against the wall, and if you want the comforting feel, place a heavy rug underneath the sofa, table and chairs – a way of bringing all the elements together.
Maximise the corner
A perfect way to maximise your luxury – a corner sofa, even if your room isn't huge. It also solves the layout problem, as most of the space is taken up by your comforting, luxurious corner sofa. As it will become the focal point of your living room, you need to think hard about the shape, size, colour and the number of seats before you commit to buying one.
If you are after a new sofa for your living room or anywhere else in your home, don't hesitate to get in touch or give us a call here at Websters Distinctive Furniture on 01484 712024.