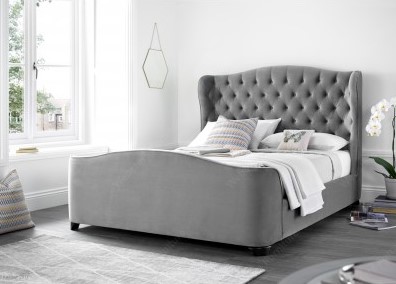 Are you in need of a bedroom makeover but don't have much room to work with? Not to worry, the experts here at Websters are here to help – you're in the right place. We've come up with a few fantastic furnishing ideas that will completely transform the look of your bedroom whilst making it look big(ger than it actually is).
Luxurious and modern designs will tell you that you need a king-size bed, an office or a sitting area, but if you don't have the luxury of space to work with, you won't be able to take advantage of these ideas. After all, who really wants an office in their bedroom? It's the ultimate place of rest, there is no place for working.
Here are a few brilliant furnishing ideas for a small bedroom to be big in style:
Keep colours light and bright
For a small bedroom, white should be a front runner for your base colour. Consider investing in white: paint/wallpaper, pillow & bed sheets and other furnishings such as mirrors and drawers. White stops the space from looking compact and boxed in, instead it combats the absence of large space by brightening it up.
To prevent your room from looking extremely basic and all-white, consider other textiles and white-on-white colours. A room that is full of white and nothing else has no personality, something you don't want – it doesn't feel comfortable or relaxing which is the complete opposite of a bedroom's functionality.
Put your bed in the corner
Majority of bedroom's have a similar layout – the bed is in the centre, with bed-side tables on either side. But if your bedroom is unfortunately small, you won't be able to have the layout that is the norm, instead you should put your bed in the corner to create space. After all, no bed-side table or cupboard is big enough to fit in a tiny space down the side of your bed.
Placing your bed in the corner also makes it feel that little bit snugger and more comfortable – almost like a university dorm.
Embrace minimalism
Reduce the amount of clutter in your bedroom by embracing the minimalism and whittling it down to the essentials. The focus of the space is the bed, much like majority of bedrooms – you do this by keeping the number of accessories, pillows and furnishings down.
An even better way to give your room that minimalist, sleek look is by using contemporary built-ins such as built-in wardrobes. Not only do they maximise storage whilst looking like they're not even there, but a good built-in around your bed creates a cosy sleeping nook.
Websters Distinctive Furniture have been supplying Brighouse and the surrounding areas for more than 150 with top of the range traditional and contemporary furniture. If you'd like further advice or a helping hand on any interior design work, don't hesitate to contact one of the team. You can give us a call on 01484 712024 or get in touch online.