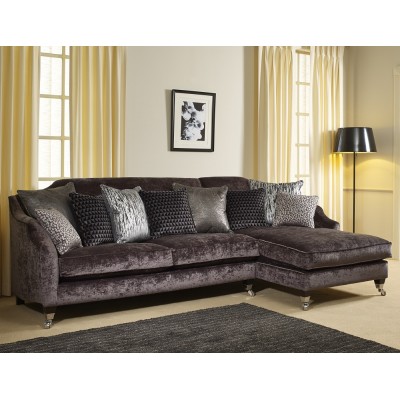 Corner sofas are getting more and more popular by the year, with a large number of people choosing them over the regular sofa. But why would someone choose a corner sofa over a regular one? Or vice versa? What are the benefits from one to the other?
Luckily, you don't need to be sat answering these questions, because the furniture specialists here at Websters Distinctive Furniture have answered them for you.
One reasons as to why someone may choose a corner sofa is because it fits in to the corner of rooms perfectly (obviously). But this is even more beneficial than you think – some corner sofas have adjustable sections, allowing the owner to adjust the length of the sofa on each side of the corner. This means the owner can have the sofa three sections on one side, and one on the other and is able to adjust the sofa to the shape of the room.
A corner sofa is also perfect for accommodating and creating space for the whole family – you can squish a few people in the corner whilst still having space to relax and stretch out on the main section.
When purchasing a new sofa, you need to put a lot of time and thought into it. After all, your sofa is probably going to be in your home for a long time once you've bought it, whether you like it or not – so carefully consider and plan your purchase out. If you're looking for a sofa for your dining room or a reception type room, a regular sofa will be the better fit, likewise, if you are fond of regularly re-arranging your furniture – a corner sofa won't work.
For any further information on any of our products here at Websters, give one of the team a call on 01484 712024.