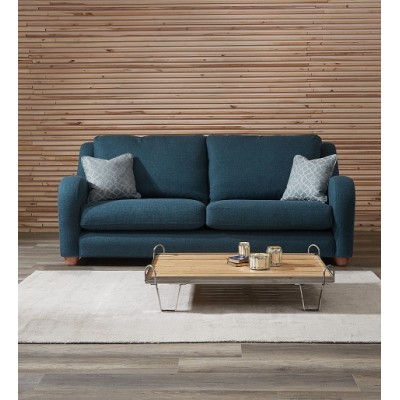 Choosing a sofa
Buying a new sofa is one of the biggest investments you will make in terms of the interior of your home and your living space as a whole, so it's important you end up choosing a sofa that's right for your home. The general consensus is that a sofa will stay in good condition for around 7 years, but as most of us may have experienced, they can stay in your home for 15+ years
Try before you buy
Just like you would with a bed or a car, it's important that you test out your sofa before forking out a big sum of money.
Check the cushions
What's on the inside of the sofa is just as important as what's on the outside. Feather-filled cushions are extremely comfortable but very often need plumping whilst fibre or foam cushions lose their shape over time. We recommend a combination of feather and foam as feathers provide comfort whilst foam provides structure.
Focus on fabric
Whether you go for a bold colour, a neutral colour or one that will match the rest of the room, the fabric should contribute massively to your room. It's important to think of the functionality – do you have dogs, cats or children? Choose a material that cleans easily. Natural materials fade in sunlight, so if the sofa is near the window, go for a synthetic fabric.
Measure up
Dig out a tape measure from deep inside your drawers and measure the dimensions of the space that your sofa will be going. Also, be sure to check the dimensions of doorways, so that you are sure the door will fit through on delivery. If it doesn't fit, you may have to opt for a sofa with removable legs or a lower back.
Websters is a family-run, independent business based in Yorkshire. We supply a wide range of sofas and encourage customers to visit our showroom to see the different designs, colours and materials available. For more information about choosing a sofa, or if you need specialist advice please do not hesitate to get in contact with us today on 01484 712024.